Tributes to Gamble
---
Jimmy Buffett's Tribute
In 1994, Jimmy Buffett dedicated his "Fruitcakes" CD to Gamble Rogers. Below is the text from that CD's liner notes.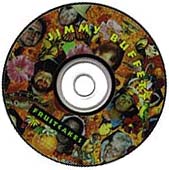 When I look back on the causes and effects that have brought me to this stage in my life, I do believe I have kept my guardian angels quite busy. I say angels, because I feel that with the lifestyle I have chosen, more help is required and they have been quite good at providing me with the right kind of help at the right time.
Gamble Rogers was the right kind of help. I vividly remember the days I spent traversing the folk club circuit in the Southeast, roaring down two lane black top roads with Gamble at the wheel of his black fastback Mustang listening to the glass packs ricocheting through the pines as he offered words of wisdom to an up and coming folk singer from the Gulf Coast.
I would open shows for Gamble in places like The Hub Pub Club in Buoy's Creek, North Carolina or the Tradewinds in St. Augustine or the Gaslight in Athens watching him weave the magic with just a guitar and a story. Gamble Rogers taught me how to move an audience with dialogue and delivery as much as with music. I never tired of listening to him expound about the Maitland Turkey Farm Massacre or deliver a history lesson on the Seminole Chief, Osceola, as he sang a Will McClain song. I was the apprentice and he was the master.
As we each continued down our respective paths, we saw less and less of each other, but stayed in touch as good friends do. When the Margaritaville Cafe opened its doors in Key West, it was Gamble whom I asked to initiate the stage and hopefully leave his mark there for others to follow. That week we shared many a good laugh recalling our days together and caught up on the years that were passing so quickly. He had settled into a quieter routine of teaching and doing festivals around Florida. I was trying to hold down the fort of the troubadours that was being bombarded constantly by pop culture. I attribute a lot of my ability to remain true to my vision to Gamble Rogers and what he taught me. Many of his tricks of twenty years ago are the same ones I still use today.
So, it was with shock and sadness that I read the account of Gamble's death in St. Augustine last year.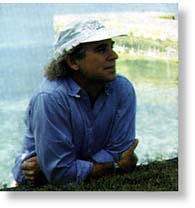 He died trying to save a man from drowning. Just like Gamble, always thinking of the other guy. So with love and respect, I dedicate this collection of songs to the memory of James Gamble Rogers, a troubadour and a friend who has gone over to the other side where the guardian angels dwell and has in all likelihood, become one.
Jimmy Buffett - 16 March, Somewhere over the Gulf of Mexico
©1994 MCA Records, Inc.
© Steady Arm Music.